ENOUGH IS ENOUGH 2007: A YEAR IN REVIEW
The following highlights EIE's accomplishments
in 2007. EIE continues to focus its efforts to "Make the Internet Safer for Children and Families" by employing a three-pronged, preventative approach to raising public awareness and educating the public on Internet safety, advising and encouraging the technology industry to implement viable technology solutions and family-friendly corporate policies, and promoting legal solutions by calling for aggressive enforcement of existing laws and enactment of new laws to stop the exploitation and victimization of our children online.
---
PUBLIC AWARENESS AND EMPOWERMENT
Internet Safety 101 Multi-Media Teaching Series
EIE began production of its Internet Safety 101 multi-media teaching series, a program to educate and empower parents and educators to take action to protect children from Internet dangers. EIE began taping initial off-site interviews with parents, teens, victims, law enforcement, Internet Industry and safety experts, and other authorities.
EIE publicly announced the Internet Safety 101 program at the 2007 Virginia Parent Teacher Association (PTA) conference.
As part of the program development effort, EIE completed a thorough review and evaluation of existing Internet safety resources available nationally and internationally.
EIE created a multi-disciplinary advisory board from around the country to ensure that our message contains the most accurate, up-to-date content. EIE Advisory Board members include experts in law enforcement, education, psychology, and the Internet industry, as well as victims of online exploitation who travel the country sharing their tragic stories of abuse.
Program Sponsors: The following sponsors provided funds in support of the Internet Safety 101 production: OJJDP, Newscorp, AT&T, AOL, Anschutz Foundation, Fieldstead & Company, the Shelby Cullom Davis Foundation, the Wiebe Foundation and Verizon.
Program Partners: EIE has both formal and informal arrangements with the following program partners: American Association of Christian Counselors, Get Net Wise, iKeepSafe, McLean Bible Church, Microsoft, Salvation Army, Web Wise Kids, RuleSpace, Virginia PTA, Department of Justice/Office of Juvenile Justice Dept, VA Attorney General, FBI Innocent Images program, the Fellowship Foundation, Wesleyan Church, McLean Bible Church, Florida Virtual Schools, the National Center for Missing and Exploited Children (NCMEC), the Ad Council, Internet Safety Coalition, WAVA Radio, WMAL Radio, and Clear Channel
Media and Public Relations
In response to local and national media requests and inquiries, EIE president Donna Rice Hughes and other EIE spokespersons regularly provide interviews and commentary on various issues and events related to the topic of Internet safety and the dangers that unprotected youth encounter online. The following is a partial list of interviews and commentary provided in 2007:
Associated Press
ABC News Radio
Arts & Entertainment Television
Business Week
Business Week Online
CBS Evening News
CBN Newswatch
Christian Broadcasting Network
CNBC - On The Money
Family News & Focus
Fox & Friends
Glamour Magazine
Internet News.com
Internet Daily
Ladies Home Journal
National Press Club - MySpace press event
National Review Online
New York Times
O Magazine
Reuters News Service
Wall Street Journal
Washington Internet Daily
Washington Times
WMAL Radio
World Net Daily
G. Gordon Liddy Radio
WUSA Channel 9 News
WVIE Radio Baltimore
IRIE Radio Jamaica
Speaking Engagements & Events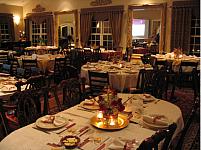 EIE's Heart-to-Heart before the guests arrivedTo educate and equip parents to protect their children from Internet pornography, sexual predators and other dangers, EIE continued to provide Internet safety presentations and seminars to interested groups and organizations (religious, secular, public and private) throughout America. The following Internet Safety 101 presentations were given during the most recent reporting period in 2007:
Educational/Professional Forums
Young President's Organization (Long Island, NY)
Heart-to-Heart Event (Tyson's Corner, VA)--EIE planned and hosted its first fundraising dinner event in Northern Virginia to announce the Internet Safety 101: Empowering Parents program.
Florida Virtual Schools (Four state-wide Webinars)--offered to parents and teacher communities. Implemented Zoomerang technology for survey response and tracking.
Family Online Safety Institute (Washington, D.C.)--participated in leadership discussions and panels.
Virginia PTA Annual Convention (Portsmouth, VA)--EIE President Donna Rice Hughes gave the keynote address and publicly announced EIE's partnership with the Virginia PTA on the Internet Safety 101 program designed to empower the Commonwealth's parents so that "No Virginia Child is Left Unprotected."
Virginia Association of Independent Schools' (VAIS) Annual Conference (Richmond, VA)--EIE President Donna Rice Hughes addressed VAIS participants through the lens of: thinking differently, learning globally, and teaching responsibly with regard to Internet safety.
American Women in Radio & Television (AWRT) (Tele-seminar)--EIE President Donna Rice Hughes addressed national AWRT members in a special tele-seminar titled: "Listen In Before You Log On: Internet Safety Tips from the Experts".
| | | |
| --- | --- | --- |
| Left to right: U.S. Atty. Mary Beth Buchanan, Alicia and Mary Kozakiewicz, and EIE President Donna Rice Hughes | Standing: House of Hope Founder & President Sara Trollinger, EIE President Donna Rice Hughes. Seated: Teenagers who shared their online experiences with EIE | Virginia PTA President Emeritus Dianne Florence with EIE President Donna Rice Hughes at the Virginia PTA Annual Conference |
Government, Legal and Law Enforcement Forums
Council for National Policy -EIE President Donna Rice Hughes served on Internet safety panel, which included Sheriff Mike Brown from Operation Blue Ridge Thunder
Online Child Protection Roundtable at British Embassy--Participated in discussions organized by the Internet Content Rating Association and a delegation of British members of Parliament
Commercial Sexual Exploitation of Children Research Cluster (CESC) Conference--EIE President Donna Rice Hughes addressed Justice Officials and the nation's leading researchers at the inaugural meeting, sponsored by OJJDP and the National Institute of Justice (NIJ), offering an aggregate of information from the field addressing gaps in the research community.
Department of Education, Educational Technology Leadership Conference (Roanoke, VA)--EIE President Donna Rice Hughes presented information about EIE's Internet Safety: Empowering Parents program in the Conference "Spotlight Session". The session will assist school divisions as they develop policies that include a component on Internet Safety for students.
Family Online Safety Institute (FOSI) Conference (Washington, D.C.)--EIE staff joined technology experts, educators and legislators from around the world to raise awareness regarding the extraordinary challenges facing parents, teachers, industry leaders, legislators and the kids in the digital world, while highlighting a range of evolving solutions.
Virginia Attorney General Internet Safety Task Force (Richmond, VA)--Internet safety presentations to further advise and VA AG on issues critical to Internet safety for youth.
EIE staff addressed Senate and Congressional staff regarding Internet safety and EIE's Internet Safety 101: Empowering Parents program.
Faith-Based Forums
The President's National Prayer Breakfast leadership meeting (Washington, D.C.)
Outreach & Communications
EIE continues to explore creative and innovative methods to reach parents and empower them to take action to protect their children online.
Produced monthly "For the Sake of the Children" e-mail blasts to communicate Internet safety information to web user community
Produced more than 15 radio PSA spots that feature an EIE "Rules 'N ToolsSM Tip of the Day" distributed through Salem Stations, USA Radio, WMAL, WAVA, other Salem Communications stations, Clear Channel Broadcasting and others
EIE continually updates and maintains its two inter-connected websites, http://www.enough.org & http://www.protectkids.com, which serve as a reliable source to public, media and the government on Internet safety information.
---
TECHNOLOGY INDUSTRY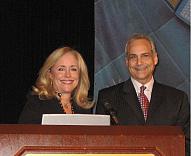 EIE President Donna Rice Hughes with Steve Clementi, Director of Public Affairs for VerizonEnough Is Enough continues to work closely with the technology community to develop and implement new viable solutions to diminish the threat of illegal pornography, sexual predators, cyberbullying and other Internet threats on the Internet.
Provided advice to social networking sites regarding Internet safety and industry best practices; supported MySpace efforts to develop parent-software, Parent Care.
Updated Internet industry leaders on Internet safety Rules 'N ToolsSM to help them protect their customers.
Worked with new technology groups like IMSafer and Crisp Thinking to reach parents with their important products.
Reported unwanted content, explicit sites, violations of use policies, and Internet danger concerns to ISPs and social networking sites.
---
LEGAL COMMUNITY
EIE continued to promote legal solutions to protect children and families from Internet dangers through work with government leaders at the state and national level. In support of these initiatives, EIE has worked with the following:
U.S. Senate and U.S. House of Representatives
EIE has worked with Congress to support the KIDS Act of 2007, which would require registered sex offenders to register their online identifiers on the National Sex Offender Database.
EIE worked with Congress to highlight the SAFER Net Act and the Protecting Children in the 21st Century Act which would fund programs to increase education and awareness about Internet safety issues.
EIE worked with Congress to educate members on complementary, quality Internet safety organizations and programs by supporting legislation to offer increased funding for competitive grants for Internet safety.
EIE continued to advise House and Senate members on new developments in technology, the Internet industry, teen online culture, and Internet dangers to better support congressional press, legislative, and constituent-focused projects.
National Cyber Security Awareness (NCSA) Month: EIE continued to work with legislators in the House and Senate to support recognition of NCSA Month.
Virginia Attorney General's Youth Internet Safety Task Force
In support of AG parental education initiatives, EIE addressed pressing Internet safety issues and offered comments/suggestions on effectiveness and usefulness of proposed programs.
In partnership with the VA AG, EIE supported efforts to launch a Virginia-wide youth Internet safety PSA campaign.
EIE provided key research to the VA AG to better support efforts to develop youth and parent-focused elements to deliver to parents in the Commonwealth.
White House
National Domestic Violence Awareness Month: EIE President Donna Rice Hughes participated in the White House event which supports the rights of all women and girls to live in peace and dignity, to end violence and other forms of oppression against all communities of women and their children, and to work with faith-based and community organizations to assist all victims of sexual exploitation, oppression, and violence.